Nigeria's Auxano Solar has earned $1.5 million from impact investor, All On to enable it to raise the yield capacity of its Lagos-based solar panel production plant by 50 per cent.
The financial addition could enable Auxano position itself as a reliable local substitute for solar panels and further reduce COVID-19-inflicted disruption in supply of imported panels from China and other parts of the world into Nigeria.
The plant also stood a good chance at expanding its market share currently within three West African countries, to other parts of the continent.
Auxano also undertake solar-based renewable energy projects across Nigeria and West Africa – it's project portfolio includes several institutional customers across the continent – the All On investment could as well support it to expand its project execution footprints.
"This investment would guarantee the expansion of Auxano's solar panel assembly capacity by over 50 per cent and is a great win for local content," said Afolabi Akinrogunde, who is All On's Programs and Investments Manager, when both parties penned the agreement in September 2020.
A statement from All On disclosed the terms upon which the deal was sealed, and it included a blend of equity and debt investments.
It will also facilitate Auxano's capacity upgrade by funding planned expansion drive, facility relocation and working capital needs.
In addition, the company's after-sales installation, management and maintenance of solar sales and distribution services to customers will be supported to flourish with the funding.
More details
Auxano distributes renewable energy components such as hybrid inverters and charge controllers. All On noted that beyond the financial investment for capacity upgrades, it will provide development supports – functional and innovation support, business opportunity development and investor/donor engagement – to Auxano.
"Auxano's growth as the first private assembler of solar panels is a success story that ought to inspire other players in the renewable energy sector in Nigeria," Akinrogunde explained, while Auxano's Chief Operating Officer, Chuks Umezulora, noted that the support was in response to growing demands for its products and services.
"This continued support from All On is in response to an increase in demand of our goods and services," said Umezulora.
He added: "It is also an indication that Nigerians are increasingly becoming more accepting of solar as an alternative to on-grid energy and diesel generators."
Incentivizing localization
According to the statement, Auxano at the initial stages of its business three years ago, hired and trained students from local technical school to keep its operational cost low.
Reflecting on this, the Managing Director of Nigeria's Rural Electrification Agency (REA), Mr. Ahmad Salihijo, noted the government's delight with the company's growth which could boost localization of solar panel production.
"We are very happy about this announcement which aligns with our policy objective of driving economic development," said Ahmad.
He further explained that: "This support from All On comes during a great economic downturn and injects significant capital that will scale Auxano's solar panel assembly operations at a time when localizing supply chains is more critical than ever.
"We hope that this investment will encourage many more investors to see that Nigeria's renewable energy sector is still very much open for business."
In addition, the President of the US African Development Foundation (USADF), C.D. Glin shared the sentiment of USADF on the development, saying that: "We are particularly excited about this commitment from All On and our collaboration to support African solar enterprises in improving lives and livelihoods amidst COVID-19."
Glin noted that, "this particular investment by All On is special, as it is the continuation of a journey we started as co-investors in Auxano's first assembly plant expansion under the 2018 All On-USADF Nigeria Off-Grid Energy Challenge."
What does this mean?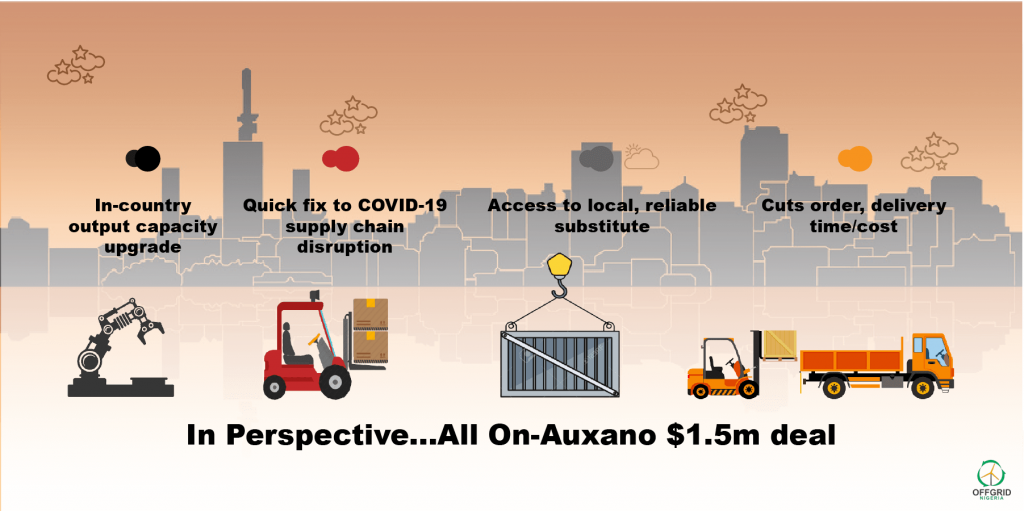 According to All On, Auxano's expansion of its solar panel assembly and business practices had seen demands for its panels, products and services rise, subsequently resulting in a supply chain challenge.
The $1.5 million investment, it noted will address the supply chain challenge, and competitively position the plant to leverage its relative short delivery time against imported substitutes.
"Most significantly, the current COVID-19 crisis has caused severe disruptions in the importation of solar panel parts. Having an operational in-country assembly plant has been an industry saver, first because the solar panel assembly sector has been able to survive and customers have been able to purchase goods in naira rather than foreign currency – a trend Auxano's expansion will make more viable," the statement explained.
Buttressing this, All On's Chief Executive Officer, Dr. Wiebe Boer said: "The current supply chain disruptions and market volatility demonstrate yet again, the importance of local assembly for the growth of the renewable energy sector in Nigeria."
According to Boer: "Auxano Solar Nigeria is a textbook example of what is possible even in times of crisis when we promote local content and invest in capacity-building in country. This is a company that has demonstrated the entrepreneurial spirit and execution focus we know Nigerian companies are capable of."