It took just 26 years for your favourite 'pure water' bags to become your next-door environmental nuisance, and that was after the government's water board or corporation aided its popularity.
Pure water debuted in Nigeria in 1994 after Ibadan based Deagbo Industries Limited launched DIL Pure Water and gave Nigerians an alternative to the country's unsafe and habitually unavailable public pipe-borne water.
From then on, pure water became a staple; bringing with it waste bags that now threaten to drown communities and cities in the country.
A recently published climate change-related report, Plastic Atlas: facts and figures about the world of synthetic polymers, by Heinrich Böll Foundation and Break Free From Plastic, explains that 'pure water' was helped to rapidly become an environmental nuisance in Nigeria, helped mostly by the systemic failures of government's water boards.
With their contaminated water and broken pipes, often resulting to water scarcity, water boards in Nigeria helped push up 'pure water' consumption such that by 2017, an average of 10 million sachets were consumed daily – most often improperly disposed.
The country's food and drugs regulatory authority – NAFDAC – fell in and could not stop the steadfast rise of pure water.
"Due to the poor performance of government waterworks because of widespread pipe leakages, contamination of piped water and general operational inefficiencies, pure water assumed an innovative status and was endorsed by the National Agency for Food and Drug Administration and Control (NAFDAC) in 2000.
"Owing to its affordability, in time, the industry grew exponentially. The annual turnover of the industry has been estimated in excess of 20 billion Naira. In 2017, NAFDAC reported that Nigerians consumed 10 million sachets of pure water daily," said the report which gave an insight on Nigeria's battle with mismanaged plastic wastes.
1994, a 'king' comes on stage
Pure water is king in most Nigerian homes, offices and eateries. To most Nigerians, it is and remains their go-to source of filling their thirst, and understandably; its affordable, 'clean' and handy characters confers on it the kingly status over government's erratic pipe-borne water.
As was disclosed by Heinrich Böll Foundation and Break Free From Plastic, the history of sachet water production in Nigeria dates back to 1994 when DIL Pure Water was introduced into the market by Deagbo Industries Limited based in Ibadan, Oyo state. Before then, chilled water was hawked in bread nylon bags and returnable bottles.
The report noted that the hawked water captured a fair share of the market relative to Swan Table Water – Nigeria's pilot brand of bottled water launched in 1981.
"Because of market competition, many water vendors soon settled for disposable polyethylene sachets, which cost less to produce and appeared to be more hygienic and convenient than nylon bags and returnable bottles.
"Aside from meeting the public's need for potable drinking water, sachet water popularly known as 'pure water' also began to serve as a veritable solution to households' other clean water demands in Nigerian cities," the report explained.
The 'king' is an ecological calamity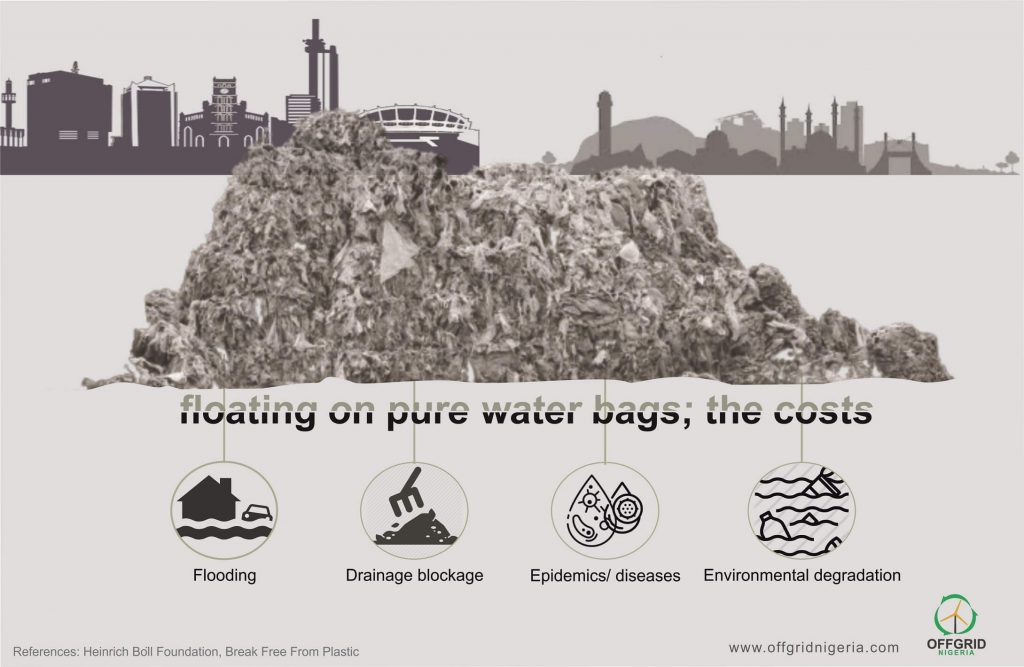 What many Nigerians consider to be the premium thirst 'dowser' is however reported to have done and still does a lot of damages to the environment.
"Empty water sachets are considerably contributing to environmental pollution," said Heinrich Böll Foundation and Break Free From Plastic.
According to them, for the most part, they end up in landfills, drainage systems, or water bodies, significantly contributing to the rising waste plastic challenges of the country. This, they explained is most obvious in Lagos, a city on the flanks of the Atlantic.
In their report, they noted that in 2014, a review of urban flood risk management efforts in Lagos identified pure water sachet, among other drain clogging materials, as a major causal factor of flooding in the metropolis.
Heinrich Böll Foundation and Break Free From Plastic warned that even though there are some laudable initiatives to recycle plastic waste, the volume of waste produced however outweighs the capacity to efficiently manage the problem.
They said in the report that there is no available record of pure water sachets collected in Nigeria so far, and the fact that collectors are usually paid per kilogram, it is likely that many of them would opt to collect heavier items like glass bottles, PET bottles, plastic chairs and kegs, aluminium cans, or cartons, rather than lightweight items like pure water sachets which has little economic incentive. This thus makes it difficult to recycle empty pure water bags in Nigeria.
"Amidst the proliferation of sachet water factories in Nigeria, there also have been numerous concerns about the hygienic conditions under which water is packaged, distributed and sold.
"A 2009 study to ascertain the bacteriological quality of packaged water revealed that about 40 per cent of the samples obtained from distributors from across the country had contaminants that posed a potential threat to public health," it added, indicating that the damages from pure water bags are beyond environmental but equally human health.
Heinrich Böll Foundation and Break Free From Plastic subsequently warned that, "as long as the inadequacy of public water supply, which created the demand for packaged water in the first place in urban, semi-urban and rural areas of Nigeria, persists, and no effective reward scheme is created, the damage from pure water sachet waste will continue to mount."