Indigenous renewable firm – Green Village Electricity (GVE) Projects Limited has signed a tripartite agreement with Abuja Electricity Distribution Company (AEDC) Plc. and Wuse Market Traders Association for the development of a one megawatt interconnected mini-grid system in Abuja's Wuse Market.
The mini grid project would eventually see to the displacement or decommissioning of about 3000 fuel generating sets from the market.
It would be supported with AEDC's recent grant of $1.06 million by the United States Trade and Development Agency (USTDA) to support studies to identify and develop similar projects.
While it is reportedly planned to supply stable and clean electricity to the market every day, the interconnected mini grid would also take up the electricity needs of 5000 businesses in the market.
GVE is reportedly leading in distributed renewable energy solutions in Sub-Saharan Africa, with footprints on design, sales, installation and maintenance of renewable energy solutions for residential, commercial, industrial and rural off-grid or under-served communities through commercially sustainable business models.
Its Managing Director, Ifeanyi Orajaka, explained to OGN that the project would expand the productivity of the market which he described as the busiest in Abuja.
Orajaka, stated that the project would be implemented as part of a renewable energy commercialisation initiative aimed at delivering reliable power to underserved economic clusters like markets, industries, plazas, estates and micro, small and medium enterprises (MSMEs) in Nigeria.
He said over 300 of such sites had been identified and will be developed, adding that, "Wuse market, the busiest economic cluster located in Abuja, the capital city of Nigeria is the first private sector led interconnected mini grid solution to be deployed in Nigeria.
"The project will provide 24/7 electricity supply to over 5,000 traders who operate in the market and will also lead to the displacement of over 3,000 petrol/diesel generators thereby mitigating significant amount of GHGs.
"The project will transform Wuse market into Nigeria's first 100 per cent green and generator free economic cluster in the largest black nation of the world," said Orajaka.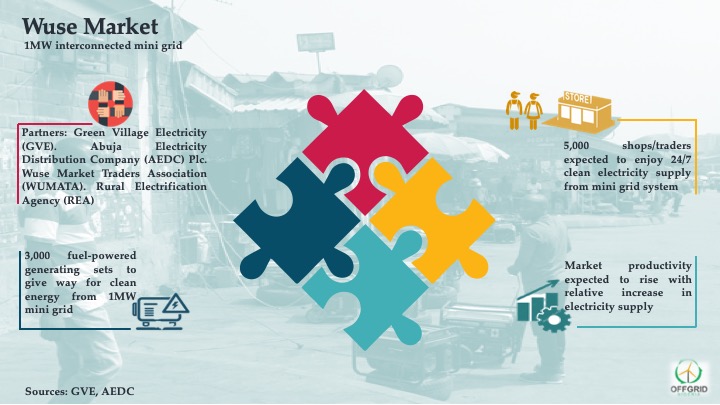 He also explained that the interconnected mini grid project will lead to the extension of trading hours in the market, thus, significantly increasing the productivity, income and profitability of traders in the market.
The project, he said would equally ensure sizable cost reductions when compared with current alternative power sources available to the traders.
According to Orajaka, "this initiative aligns with expectations of the federal government of Nigeria's Energizing Economies Initiative (EEI) delivered through the Rural Electrification Agency (REA)."