"I'm proud to join SEforALL and continue to focus our efforts on closing energy access gaps, showing that a clean energy transition is possible, and working to give everyone the opportunity of a prosperous, dignified, and healthy life," were the words of Ms. Damilola Ogunbiyi in a statement announcing her appointment as the CEO of United Nation's (UN) special agency – Sustainable Energy for All (SEforALL).
SEforALL works with leaders in government, the private sector and civil society to ensure access to sustainable energy worldwide, which implies that the hugely resourceful and focused, Ogunbiyi would have her hands full in pushing for more people to be electrified.
She was also appointed Special Representative of the UN Secretary-General, António Guterres, for SEforALL, to complete an unpredicted swoop on Nigeria's revived Rural Electrification Agency (REA).
The REA from its past has had no focused leadership like that brought on by Ogunbiyi in 2017 when her appointment as its head was announced by Nigeria's president, Muhammadu Buhari, and many fear the gains made under her term may be rolled back.
In her task at the UN agency, she will equally co-chair the United Nations-Energy, succeeding UK's Rachel Kyte, but leaving behind REA which she realistically cleaned up from its history of shady operations, revived and set up on a path of value creation would mean a fresh search for her replacement.
Appointed to head the REA in April of 2017, Ogunbiyi was previously a senior aide to Buhari on power. She reportedly reviewed and repositioned the REA to do its jobs better with less of political considerations.
She equally enjoyed immense support from Vice President Yemi Osinbajo, to ensure her works at the REA gained the right traction.
Focusing on leveraging market-based solutions to providing access to electricity to Nigerians who fall within the coverage of the agency's work, Ogunbiyi pushed far and wide to attract funding for REA which until her appointment only installed transformers and poles in communities. The transformers were however never useful to communities as few actually had electricity flowing through them from Nigeria's weak and underperforming national grid.
She also recognized and pursued with vigor the options of using renewable energy to reach Nigerians who are far from the electricity grid and unlikely to get electricity from it sooner, thus, shifting the REA's past corruption-riddled project initiation and implementation character to being ingenious in its mandate.
In two years…
Ogunbiyi aligned her operations to mobilizing important stakeholders and finances needed to deliver electricity to people and communities that needed it most in Nigeria. She basically moved REA from an appendage government office to a busy, relevant agency capable of helping Nigeria realise her energy mix and supply plans.
With her team, she initiated and implemented the Nigerian Off Grid Electrification Programme, successfully negotiating a $350 million Nigerian Electrification Project (NEP) with the World Bank, to help increase access to electricity services for households, public education and health institutions as well as to under-served small businesses across the country.
The NEP was to rapidly construct solar mini-grids and deploy solar home systems across Nigeria. It was also to develop a data driven off-grid model for Nigeria that will become an exemplar for Sub-Saharan Africa, and up to 250,000 small businesses and one million households were to benefit from its implementation.
With its solar hybrid mini grid, the NEP provided partial grant to support the development of private sector mini grids in unserved areas to electrify households, local enterprises, and public institutions. It provided a minimum subsidy tender to electrify selected communities that have high economic growth potential, and a performance-based grant program that developers may use to electrify the communities of their choice.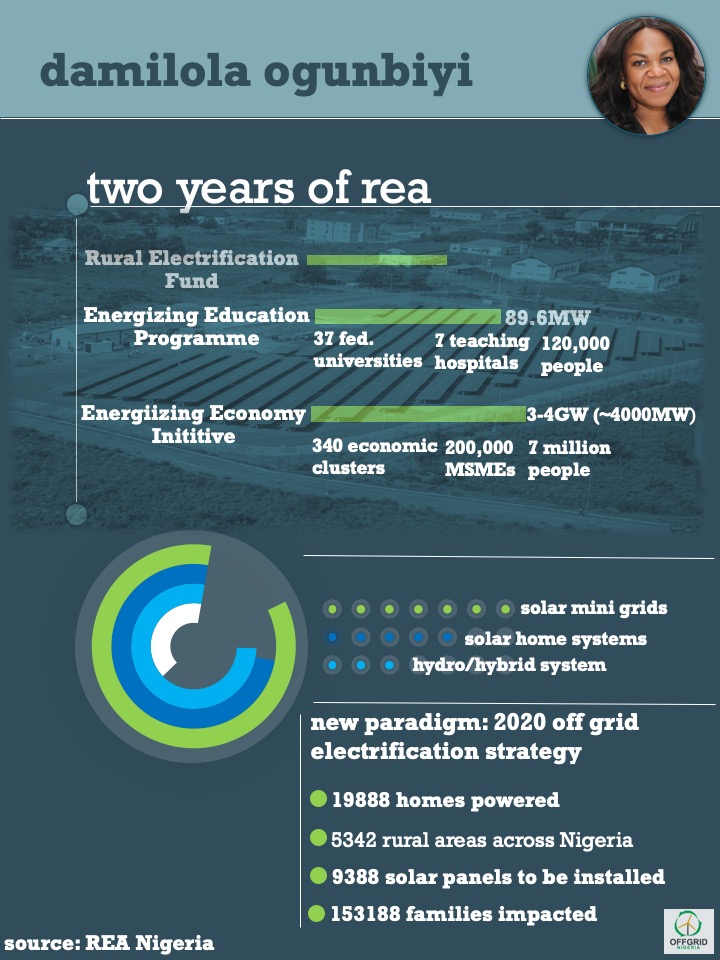 The NEP's Standalone Solar Systems (SHS) was also designed by Ogunbiyi to be a market-based incentives and technical assistance provided to standalone solar system providers to install solar home systems to help millions of underserved Nigerian households and enterprises access clean, safe and reliable energy services from private companies at a lower cost, while its Energizing Education Programme (EEP)sought to provide reliable, affordable and sustainable power to 37 universities and seven associated teaching hospitals across the country, serving approximately 120,000 people.
She also found a sustainable framework to disburse funds accumulated in the Rural Electrification Fund (REF), using the Interconnected Mini-grid Acceleration Scheme (IMAS) with supports from the European Union and German Government through the Nigerian Energy Support Programme (NESP).
Amongst her other initiatives at the REA was a Nigerian government-backed Energizing Economies Initiative (EEI) to support the rapid deployment of off-grid electricity solutions to Micro, Small, Medium Enterprise (MSMEs) in economic clusters such as markets, shopping complexes and agricultural or industrial clusters, through private sector developers.
And in two years, Ogunbiyi's works gave the REA so much prominence that appealed to British billionaire businessman, Richard Branson, and pushed his endorsement of the country's mini grid market as a potential high yield investment destination.
On board the SEforALL…
Ogunbiyi, who was before joining Nigeria's federal government the General Manager of the Lagos State Electricity Board – a government agency responsible for public lighting, independent power projects, would be looked upon to bring her extensive leadership experience and a track record of supporting energy access in Sub-Saharan Africa to her roles at the UN.
Reputedly the first woman to head the REA, Ogunbiyi's efforts at the REA have seen busy and industrious Nigerian markets such as the Ariaria in eastern Aba town, Sabon Gari in northern Kano, and Sura Shopping Mall in southern western Lagos get stable electricity supply to support their commercial operations.
She is equally a globally respected with a broad and diverse international network in the area of energy development, which includes key relationships with leading multilateral and bilateral partners and the private sector, and should bring these expertise to bear on the workings of the UN to improve energy access and cut down poverty.
According to the UN, she would be taking up the job just as the world enters the final decade to achieve Sustainable Development Goal – 7 (SDG7) which is achieve access to affordable, reliable, sustainable and modern energy for all by 2030.