With pockets of market-enabling supports from the government to localise and scale their in-country operations, solar power operators in Nigeria could take advantage of the energy access gap in neighbouring West African countries to make up to $2.5 billion annually, a new report has disclosed.
The report – 'Achieving Economies of Scale in the Nigerian Solar Value Chain: Opportunities and Benefits of Upstream Localization', was published by UN's Sustainable Energy for All (SEforALL) and Shell-funded impact investor, All On.
It sought to identify and create a sustainable framework for the solar systems industry in Nigeria through increased electrification and localization of its upstream value chain.
The report indicated that Nigeria is strategically placed in the ECOWAS region and its burgeoning solar power industry could enjoy enormous benefits from the export of solar energy components and electricity to the region which has up to 79.6 million people without electricity.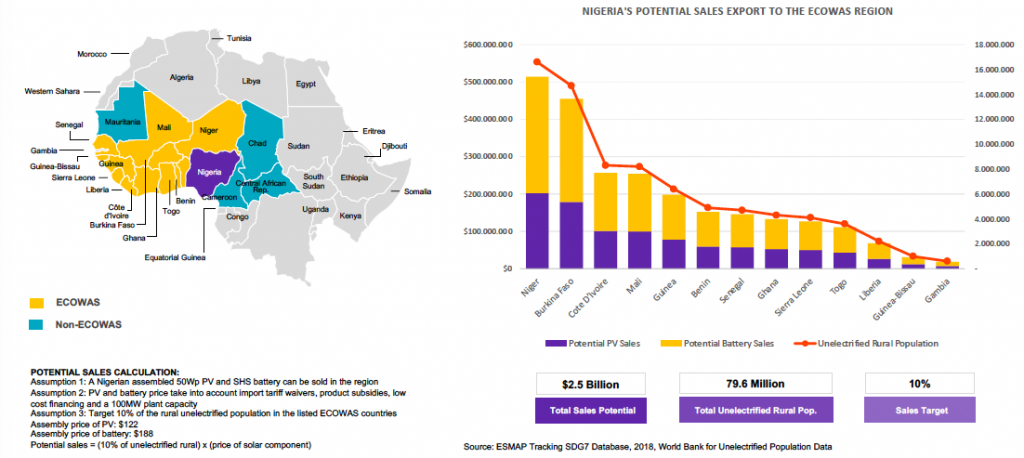 What needs to be done
The report stated that Nigeria's local solar industry cuts across various segments of the electrification spectrum and includes various solutions.
Some of the solutions are small pico, solar home systems (SHS), stand-alone PV systems, mini-grids, and large scale, grid-connected PV systems.
They could deliver impactful socio-economic value to private over-the-counter consumers, private households and small productive use businesses, government and public institutions such as schools and clinics as well as high income households and SMEs, utilities and community electrification projects.
However, the market it noted has a number of challenges such as high tariffs, lack of economies of scale and limited private sector upstream investments which shakedown its potentials to scale.
Despite these challenges, the report added that there is a significant market appetite for local assembly and manufacturing among stakeholders engaged along the value chain, and that if the challenges are fixed, Nigeria could dominate the region's solar energy market.
It added that market opportunities thus exist for SHS distributors, mini-grid developers, component manufacturers and assemblers.
"Localization (assembly/manufacturing) of key components of the solar value chain can yield social, environmental and economic benefits. Nigeria is strategically positioned to cater to the wider ECOWAS market, with also significant off-grid market potentials," said the report.
It further explained that "results show lowering tariffs and providing product subsidies have the largest impact on Nigeria's ability to localize (assemble) key components of the upstream value chain.
"Access to lower cost of financing and capital investments in plant capacity are also key enablers to the growth of a local upstream solar sector."
The report explained that the combined effect of these enablers on the local assembly of key solar systems components will make Nigerian pricing competitive, increase its export potential and reduce the time it takes to localize as well as reduce the levelized costs of energy and promote investments in the sector.
"A small subset of local businesses have shown that localization is viable and are actively pursuing different pathways by investing in PV plant capacity, battery assembly and PCBs to increase scale, local content and business efficiency," the report added.
Suggestion
SEforALL further advised that Nigeria takes advantage of its Solar Power Naija Programme to push for such scale and domination of the regional market.
It explained that it was proposing a phased systematic approach to addressing the identified industry challenges in line with the programme.
According to it, the country could thus in the first phase pursue an accelerated importation scheme in which imports of semi-knocked-down kit (SKDs) could be encouraged to enjoy quick deployment of systems to target market and discounts attributed on large purchases from foreign manufacturer ahead of growing local assembly and manufacturing capacity.
Subsequently, it could prioritise local assembly in which phase local assembly of key solar systems components such as PVs and batteries are supported to lay the foundations for export.
Then, it stated local manufacturing could be prioritised in third phase to support local manufacturing of key components of solar systems as well as investment in raw materials required for large scale production of components.
Within this phase, the report also noted that investment in research and development (R&D) through tertiary institutions, re-use of petroleum by-products for PV production and export of local solar components and services will be emphasised and attained.