*Gains N20/kWh savings on electricity from solar plant
Mokoloki community is located in Obafemi Owode local government area of Ogun state, and has approximately 1,000 people who previously struggled with intermittent electricity access living in it.
Electricity supply to the community from 'NEPA' – a common acronym for defunct Nigerian state power which stuck as local description for electricity supply, has "poor voltage quality and an average of four hours of electricity service per day limited health service, commercial development, and other aspects of daily life," a summary of a commercial hybrid solar power project recently built there explained.
With solar hybrid project commissioned and operational, Mokoloki became Nigeria's first rural commercial under-grid mini grid; it came online in February 2020 and has provided stable and cost-efficient electricity to 230 residential, 48 commercial, 11 public and one anchor customer connected within three months of operation.
The customers have equally gained up to N20 per kilowatt hour (kWh) savings on their daily electricity consumption.
Through an innovative partnership, the Ibadan electricity distribution company (Disco), Nayo Tropical Technology (Nayo Tech) and Mokoloki community set up the clean power plant. They also got advisory support from the Rocky Mountain Institute (RMI).
According to early evidence, the project now gives improved electricity service, support for community development and reduce utility losses in Mokoloki. The project summary noted that Mokoloki, with its bustling market, provided ample offtake capacity for the project as a well-run electricity system.
It explained that, "by replacing a weak grid connection, Mokoloki's mini-grid created cost savings for the Ibadan Disco which previously registered aggregate technical and commercial losses of up to 70 per cent in the community, opened a new revenue stream and mini-grid market segment for the developer, avoided about 15,000 kilograms (kg) of carbon emissions in its first three months of operation and reduced customer electricity costs by N20/kWh ($0.06/kWh)."
The business model used
Using an existing tripartite contract blueprint enacted by the Nigerian Electricity Regulatory Commission (NERC), Ibadan Disco, Nayo Tech and Mokoloki community negotiated and agreed to build an interconnected power system islanded from the national grid but can be reconnected to share power in the future.
The tripartite negotiation also involved the developer paying the utility a fixed fee on a monthly basis for use of distribution facilities to supply electricity to the community for an initial duration of 10 years.
Following from this, the developer invested in the generation assets and distribution upgrades to provide cost-efficient and predictable electricity supply to the community.
Following its take-off in February, customers' interest according to the project summary has outpaced expectations with 230 residential, 48 commercial, 11 public and one anchor customer connected within three months of operation. It has equally achieved a reliability record of 99.9 per cent.
"At least four additional major productive use loads are anticipated to come online within the first year. The generation system was designed to handle load growth, with 100kW solar PV, 192kWh battery, and 88kW diesel backup installed and an expansion plan in place.
"This scalable system design, while unusual due to the additional planning required, is considered best practice in the mini-grid sector due to the difficulty of load prediction. Reliability is reported at 99.9 percent.
"The tariff structure is customized to connection type. Residential customers pay a flat rate per kWh, but commercial and agricultural customers pay time-of-use rates to incentivize consumption during peak daytime hours (9 a.m. to 4 p.m.) when the sun is shining," the summary added.
Under-grid mini-grid supply model
According to the RMI, the project was done using a relatively new model in mini-grid power business, the under-grid model.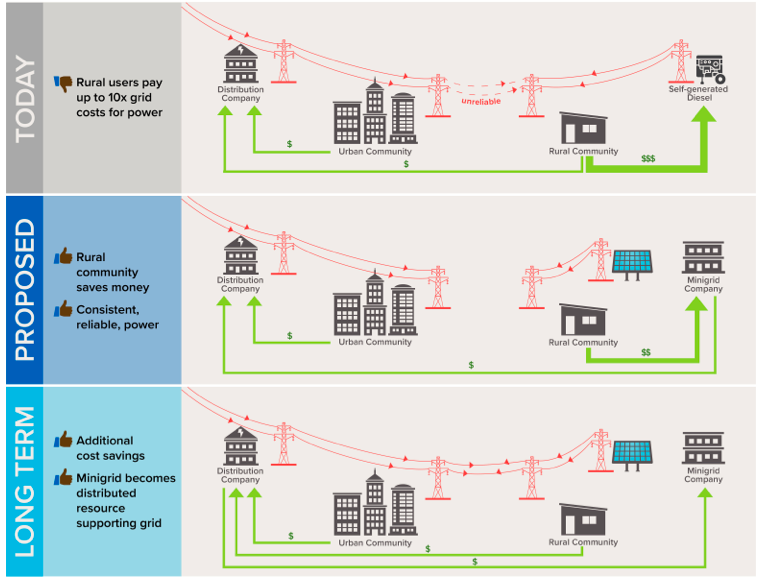 The RMI explained that like Mokoloki, under-grid communities are situated and connected to the national grid in territories of a Disco where the distribution network is at least nominally present, and are served electricity infrequently; these communities despite the presence of little but remnant distribution infrastructure that indicates utility jurisdiction are considered to be underserved.
Residents in these communities equally rely on expensive alternatives like small diesel or gasoline generators to fill the gap between limited grid power and their real needs and their demonstrated high ability to pay for alternatives and significant electricity demand are key factors differentiating under-grid from off-grid communities where there is no grid presence at all.
It stated that the Mokoloki mini-grid is an important proof-of-concept that the under-grid business model can be achieved.
"It represents more than that. It also proves that the under-grid model is technically and economically feasible. Before the project the tripartite contract enabled by Nigeria's Mini Grid Regulation had never been executed.
"This project builds on the Rural Electrification Agency's expansion of the mini-grid and off-grid sectors in Nigeria to exemplify a good-faith negotiation between three parties that saw the benefit of an under-grid mini-grid. And it proved their faith was justified," the RMI noted.
It equally stated that the under-grid mini-grid approach could be scaled to thousands of other communities in Nigeria, adding that partners in the Mokoloki project are willing to replicate the success elsewhere with caution to challenges.