Total solar power generation by Nigeria grew by about 9 megawatts (MW) in 2019 to 27.96MW from 19.09MW in 2018, indicating a 46.4 per cent increase in solar power capacity addition in the country, a capacity trend study of the International Renewable Energy Agency (IRENA) has disclosed.
According to the IRENA, Nigeria's solar power generation capacity grew from 12.20MW in 2012 to 27.96MW in 2019, ensuring the country doubled its clean energy generation capacity in seven years.
From the trend study, the IRENA indicated that in 2013, Nigeria's renewable energy generation capacity slightly increased to 15.40MW and then 15.60MW in 2014 before reaching 17MW in 2015.Subsequently, there was a modest 1.40MW capacity addition in 2016 which brought it to 18.40MW and then 18.92MW in 2017, 19.09MW in 2018 and then 27.96MW in 2019 which represented the biggest leap in capacity addition for the country.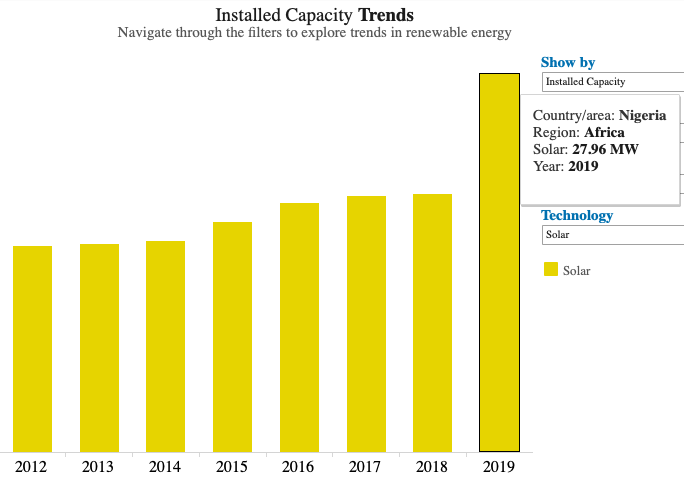 In the last 20 months, Nigeria has revived its Rural Electrification Agency (REA) to lead innovative deployment of clean energy technologies to homes and communities underserved or without access to electricity in the country.
Through key programmes such as the Nigerian Electrification Programme (NEP) which has attracted up to $550 million worth of funding from the World Bank and African Development Bank (AfDB), the REA has funded projects in solar hybrid mini grid and solar homes systems which contributed to Nigeria's share of solar power capacity addition.
Generally, IRENA stated that 2019 was the first year when expansion of renewable energy slowed down. It however noted that total power capacity expansion in 2019 was also well below average and non-renewable capacity expansion was remarkably low.
Consequently, it added that the share of renewables in capacity expansion continued its upward trend to reach 72 per cent in 2019.
"Similarly, the renewable share of total generation capacity rose from 33.3 per cent in 2018 to 34.7 per cent in 2019. At the regional level, non-renewable capacity expansion in 2019 continued to follow long-term trends, with net growth in Asia, the Middle East and Africa, but net decommissioning in Europe and North America and little change in other regions. "However, renewables still accounted for at least 70 per cent of total capacity expansion in almost all regions in 2019. The two exceptions were Africa and the Middle East, where renewables accounted for only 52 per cent and 26 per cent, respectively, of net additions," it stated.