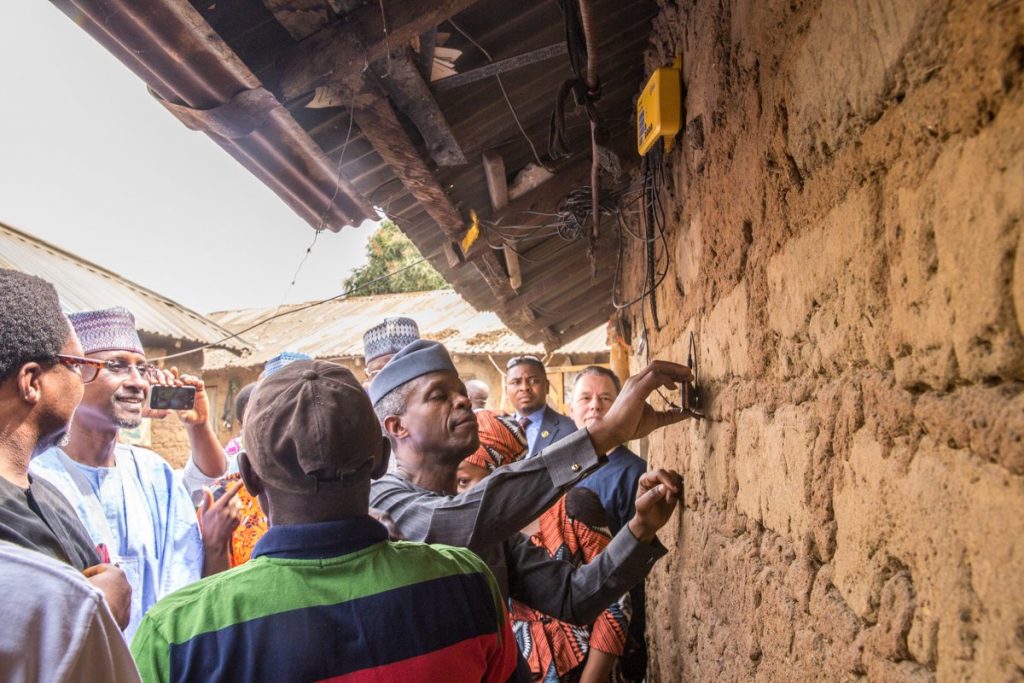 Nigeria' acting president, Prof. Yemi Osinbajo has launched the pilot phase of the presidential solar homes systems (SHS) scheme, predicting that a good number of the country's citizens would soon quit the national grid to rely on off grid RE solutions for their energy needs.
Speaking in Wuna, a rural community in Abuja where 200 units of the 20,000 SHS were installed by the Niger Delta Power Holding Company (NDPHC) Plc in partnership with Azuri Technologies, and commissioned on Tuesday, Osinbajo said the grid could not serve all Nigerians, necessitating the need for a quick pivot to off grid solutions.
At the moment, Nigeria's grid reportedly serves less than 40 per cent of the country's 170 million people. Electricity from the grid is often very unreliable (average of 3500mw) and only reached a record high of 5071mw in February 2016.
Osinbajo however state that the government would take advantage of the falling costs of deploying off grid solar PV systems to cut the country's energy deficit, adding that rural communities and industrial clusters would be targeted for this sort of off grid initiatives.
"We think that as solar power becomes cheaper, and it is becoming cheaper practically day by day, we will be able to afford to do even more and deploying more across the country especially to places that are not served by the grid," Osinbajo said.
He further explained: "The grid is just one transmission centre if you like, but we cannot take all our power from the grid. And so, in the next few years, it will not be absolutely important for you be connected to the grid because we will be deploying every types of off grid solutions that we can deploy and we want to do that in the industrial areas."
Questioning Nigeria continued reluctance to fully embrace solar PV power sources to get more of its citizens out of the energy poverty matrix, Osinbajo said: "There is absolutely no reason why our country that has possibly the best radiation anywhere in the world (should continue to ignore solar)."
"Many parts of Nigeria especially in the northern parts, radiation is excellent, and so we are going to do our best to use solar power to the maximum especially wherever we can find the best radiation," he added.