Nigeria has included in the new pioneer status law it recently passed, tax rebates for manufacturers of solar panels, batteries, solar home systems, light emitting diodes, and other components that support solar energy production, its power minister, Mr. Babatunde Fashola, has disclosed.
Fashola, told an audience at a renewable energy meeting organized by Africa Today Magazine in Abuja, that the pioneer status law was expanded to include these new entrants as part of the Economic Recovery and Growth Plan (ERGP) the country launched to regrow her economy from recession.
"As a conscious measure to incentivize developers, the national policy for pioneer status has been revised by the ministry of industry, trade and investment and approved by the Federal Executive Council to include solar panels, solar home systems, light emitting diodes, batteries other components that support solar systems which can be manufactured in Nigeria," said Fashola.
He said the government has initiated policies that would support investments in renewable energy, adding that the Rural Electrification Agency (REA) has been revived to drive electricity deployment to rural parts of Nigeria and areas with no access to electricity.
"Their mandate is to champion and drive rural electrification and penetration with the bias to use solar and mini grids. This should have been done since 2006, one year after the Electric Power Reform Act was passed in 2005," he explained.
The pioneer status law is a fiscal incentive offered by Nigeria to companies operating in designated pioneer industries and or producing pioneer products, and can provide an income tax holiday for up to five years.
It is tax holiday given to companies for a period of time, to encourage the growth and development of the country's economy. As such, new companies or an existing companies with an expansion plan may apply for a certificate of pioneer status which lasts for three years and renewable for another two years.
The Nigerian Investment Promotion Commission (NIPC) is charged with task of administering incentive policy.
Industries added to the Pioneer Status Law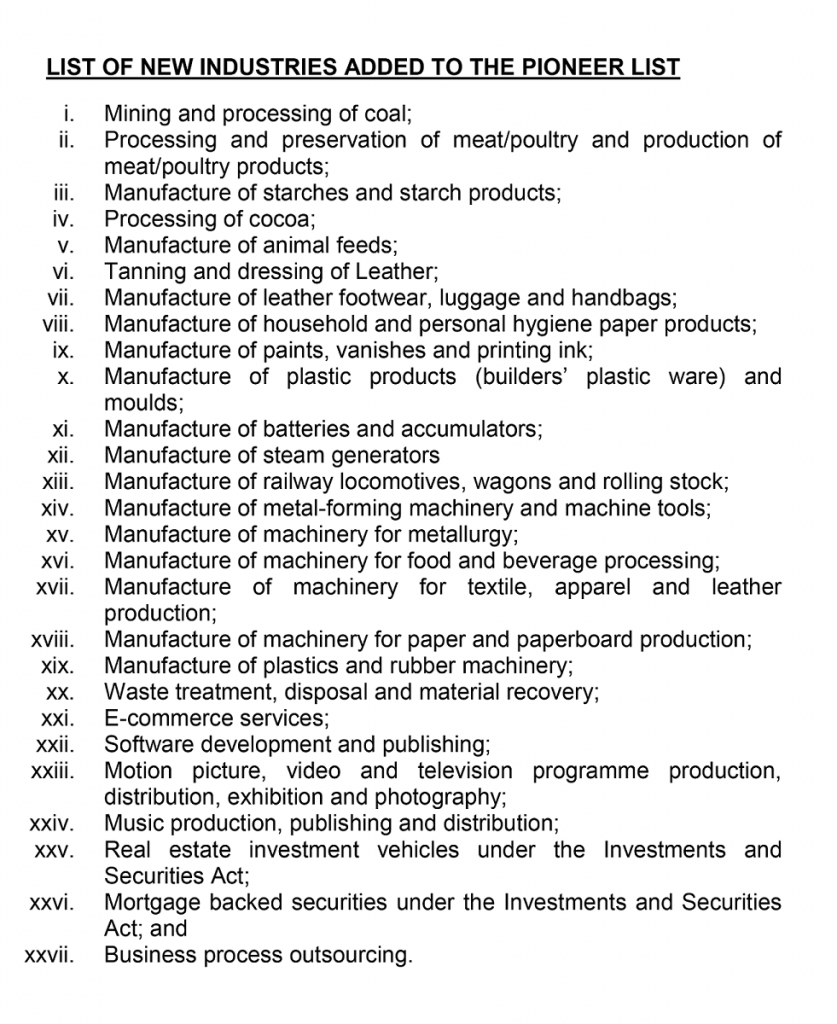 NB: "Battery or accumulator means any source of electrical energy generated by direct conversion of chemical energy and consisting of one or several primary (non rechargeable) battery cells, or consisting of one or several secondary (rechargeable) battery cells."