The United Nations (UN) has expressed its delight with United States (US) decision to return to the Paris Climate Change agreement most of the world reached in 2015.
Following the inauguration of Mr. Joe Biden on Wednesday as US president, the UN Secretary-General, Antonio Guterres said that he was looking forward to a period of new leadership towards accelerating climate action.
Guterres welcomed Biden's decision to rejoin the Paris climate change pact and called on him to adopt an 'ambitious' plan to fight global warming.
To tackle climate change and its negative impacts, 197 countries adopted the Paris Agreement on December 12, 2015. US' immediate past president Mr. Donald Trump however announced his country's withdrawal from the agreement on June 1, 2017.
But during his inauguration, Biden indicated his administration's intention to get back in line with the world on the climate change war.
"A cry for survival comes from the planet itself. A cry that can't be any more desperate or any more clear," Biden said in his inaugural address on Wednesday.
He made tackling climate change one of his core priorities during his campaign for the presidency, and further listed the challenges the US faces during his address to include, "the battle to save our planet by getting the climate under control."
A cheery news
Speaking on this, Guterres said: "I warmly welcome President Biden's steps to re-enter the Paris Agreement on Climate Change and join the growing coalition of governments, cities, states, businesses and people taking ambitious action to confront the climate crisis."
He also noted that UN looked forward to a renewed collaboration with the US on the halting climate crisis which according to him has continued to worsen, leaving the world with little time to limit temperature rise to 1.5 degrees Celsius.
"We look forward to the leadership of United States in accelerating global efforts towards net zero, including by bringing forward a new nationally determined contribution with ambitious 2030 targets and climate finance in advance of COP26 in Glasgow later this year," he added.
Biden's immediate steps

Following from this, the Washington Post reported that Biden immediately signed an executive order recommitting the US to the pact, and further ordered federal agencies to review scores of Trump's climate and environmental policies, to quickly reverse them if possible.
Though many of his immediate actions will not take effect immediately – the US will formally become a party to the Paris pact in 30 days' time, Biden, also plans to sign an executive order elevating climate in domestic and national security policy, direct science and evidence-based decision-making in federal agencies and re-establish the Presidential Council of Advisers on Science and Technology.
Trump and climate change
Trump who previously backed actions to mitigate climate change, became its fiercest political critic, often labelling it a myth.
At the World Economic Forum (WEF) in Davos, the BBC reported his indirect exchanges with activist Greta Thunberg where he dismissed calls to action against the phenomenon as that of "alarmists" who wanted to "control every aspect of our lives".
He however expressed the US' support for an initiative to plant one trillion trees, but continued to describe it as "mythical", "non-existent", or "an expensive hoax". He also had more than 120 Twitter posts condemning climate change.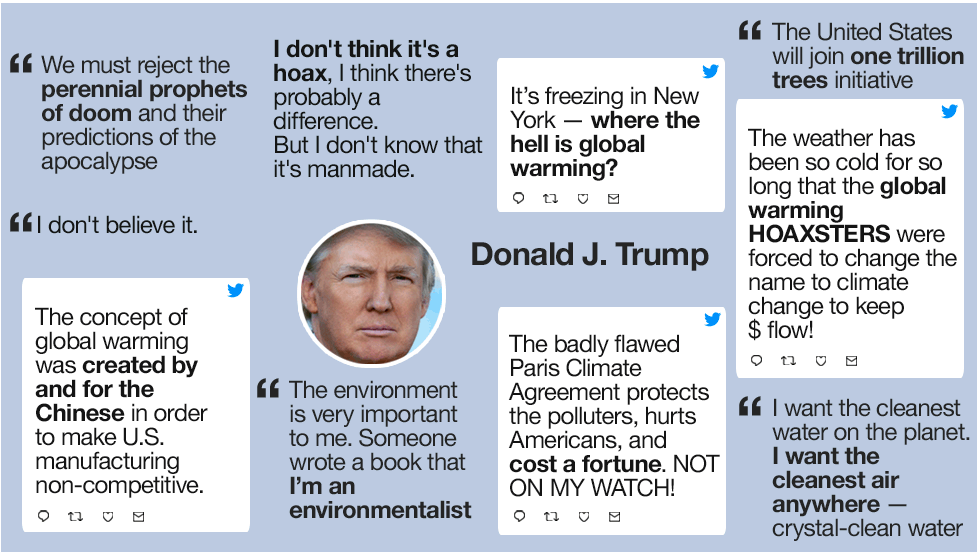 Additionally, the Climate Deregulation Tracker, run by the Columbia University Sabin Center for Climate Change Law documented that Trump took more than 130 official steps to scale back measures to fight climate change.
It listed some do the high-profile rollback steps to include:
The decision to withdraw the US from the Paris climate agreement.
The decision to replace former president Barack Obama's clean power plan, which sought to limit carbon emissions from coal and gas-fired power plants.
Efforts to freeze the fuel efficiency standards imposed on new vehicles while stopping California from setting its own emissions rules.
Signing of an executive order instructing agencies to expedite infrastructure projects, including by identifying opportunities to circumvent environmental review.