An Abuja estate that runs without electricity supply from the national grid or fuel generators shuts the evil eye on renewable energy. 
"The biggest solar revolution will take place on rooftops, high electricity tariffs and cheap residential battery storage will make small-scale rooftop solar even more attractive, driving a 17 fold increase in installations…," said Yusuf Suleiman, CEO of Blue Carmel Energy Ltd.
Suleiman, could be described as a man about town when you think of how off-grid Renewable Energy (RE) solutions can be deployed to keep homes and offices constantly electrified in Nigeria.
Nigeria struggles with a dire electricity scarcity despite its rich energy sources – RE and fossil fuel sources.
Suleiman however told OGN that with about N2.5 million ($12,500) (as at 2014 when the naira/dollar exchange rate was N199/$), he successfully deployed a hybrid off-grid RE solution to give endless and potent electricity to each of the 5 units of terrace duplexes housing 10 families in an estate he built in Guzape, one of Abuja's budding districts.
The district shares boundaries with the affluent Asokoro District. The off-grid solution according to Suleiman will take residents of the estate for up to 25 years from the day it was commissioned.
He said the estate represents a gradual shift to green architecture in Nigeria, and described its apartments as unique because they are completely independent of electricity from the grid even though the grid has reached the district.
"The building is running on a hybrid system of solar and wind energy, providing enough electricity for the residential apartments, including air conditioning, they are proof that off-grid RE solutions will largely be part of our energy future," Suleiman added.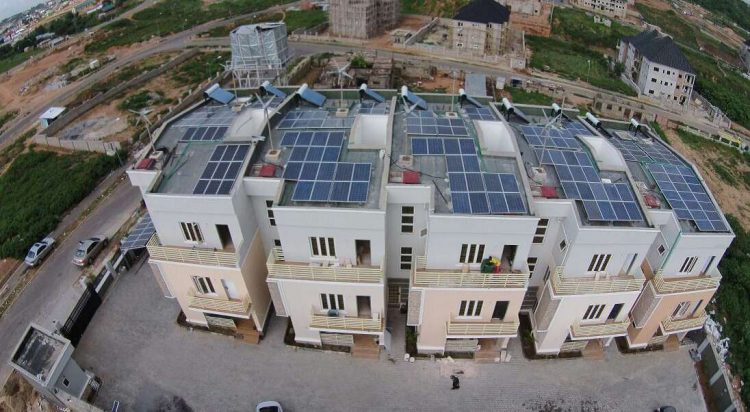 He stated: "Solar power generation remains the fastest way to increase energy generation, and quickest to deploy. It is also the fastest growing energy generation model worldwide."
According to him: "This energy source remains the cleanest source of electricity generation if the current environmental challenges is anything to go by."
Suleiman gave a simple breakdown of the economics of the RE solution in the estate. He stressed that at N24 per kilowatt hour (kWh) which is the average charge for unstable on-grid electricity provided by the electricity distribution company in charge of the estate's location, his RE solution has by far proven to be economical.
He equally indicated that for the estate to have lived on this solution for 18 months now means that the bad raps on RE solutions been ineffective were completely false.
"When we started this, we wanted to develop an off grid (10 apartments) mini estate in Abuja to run totally off grid and fossil. To be entirely dependent on energy from renewable sources (wind and solar) and to explore the use of best available energy efficient appliances (Air conditioners, light fittings, refrigerators, washing machines, Air cooling fans, water pumping systems, perimeter lighting solutions and heat generating appliances).
"We wanted to implement green architecture. So, we have 5 units of terrace duplexes to house 10 families. 55 rooms in total on 3 floors and a basement," he said.
The estate he added, "Sits on 1700sqm of land area, the building structure is seated on 500sqm floor area and has a height at 580 meters above sea level."
He explained the RE mix the estate uses, saying: "We have rooftop solar array of 25kw, solar water heaters 2,250 litres, wind turbines 15kw, solar powered borehole 57,000 litres storage, solar perimeter lighting solution, solar powered DC refrigerators.
"Taking advantage of the available wind speed, terrain and height of the building, 10 units of 1.5KW wind turbines were installed to add to the power generation, 1 unit per apartment expected to generate power for not less than12 hours per day. The wind turbine operates from 4m/s wind speed.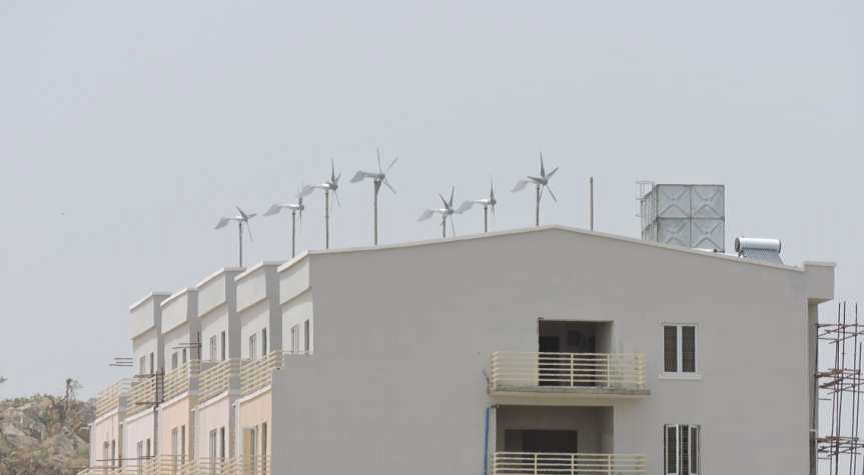 "We also have 140 units of 240w solar PV systems. 10 units of 6kw inverter system, 1 per apartment – 60kW combine, 33,600 watts of power generation from solar. 201,600whr power generation at 6 sun hours and 400amp/hour battery bank per apartment."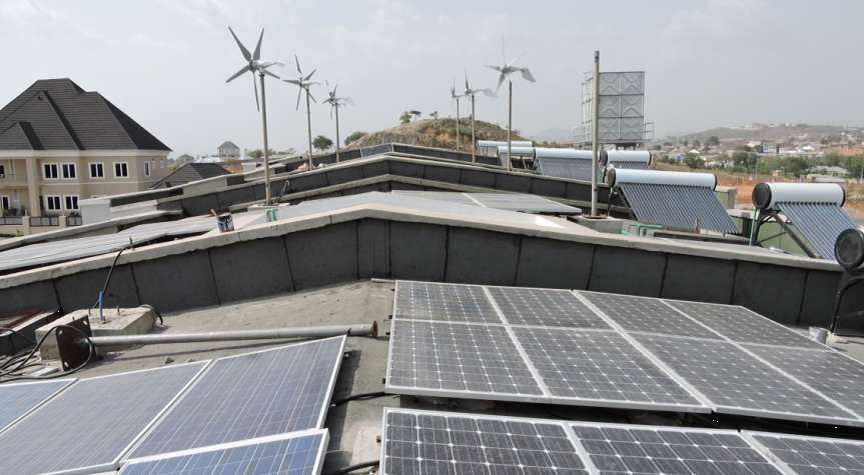 Suleiman explained that the investment made on RE installations on the rooftop of the estate will in addition to supply stability, "become cheaper than our grid electricity over a 10 year period and half the cost of current grid electricity over a 24 years period."
He said no electricity distribution company in the country can guarantee any of its customers 24 hours uninterrupted electricity but he can guarantee residents of the estate of that even at low resource downtime.
According to him, as part of the estate, a 40,000 litres overhead water tank, 17,000 litres reservoir, with 20, 000 litres daily pumping capacity, all powered by 8 units of mono crystalline solar PV at 240W are also in place.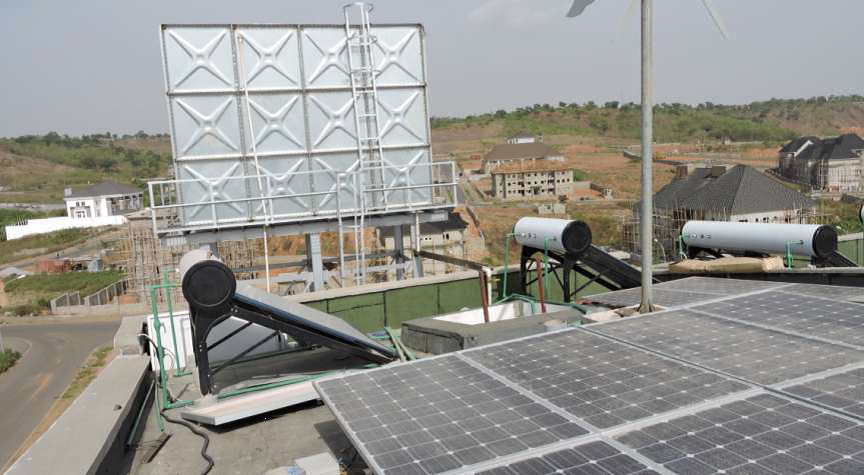 "Past records have shown that government's direct involvement in solar related projects have only discredited the industry and have been used as a conduit pipe by politicians and their associates to siphon government funds.
"But if our 10-year business model reveals that uninterrupted power supply can be achieved for households through solar deployment at a cheaper rate than the conventional grid and comparatively 75% cheaper than the grid/fossil mix, then it is definitely a preferred option," said Suleiman who disclosed his company plans to deploy 6kw rooftop models to 1 million Nigerian households within 2 years.